The Territories of the Covid-19 Response in Lebanon
The times of Covid-19 are times of crisis and, like any a crisis, these times are most often used as an opportunity for political actors to reposition themselves. At the Beirut Urban Lab, we chose to look at how, in the context of Lebanon, and in the aftermath of the October uprisings, the response to the Covid-19 impacts and reconfigures the political geography landscape.
For this research, we compiled about 200 data entries in a spreadsheet from a range of sources: media (TV, newspapers, e-zines), social media (Twitter, Instagram, FB), websites, and personal observations, documenting: types of actors (public, private, political, religious, civic); modalities of action (preventive measures, setting up quarantine centers, aid/relief, enforcement measures); and localities (municipalities, refugee camps).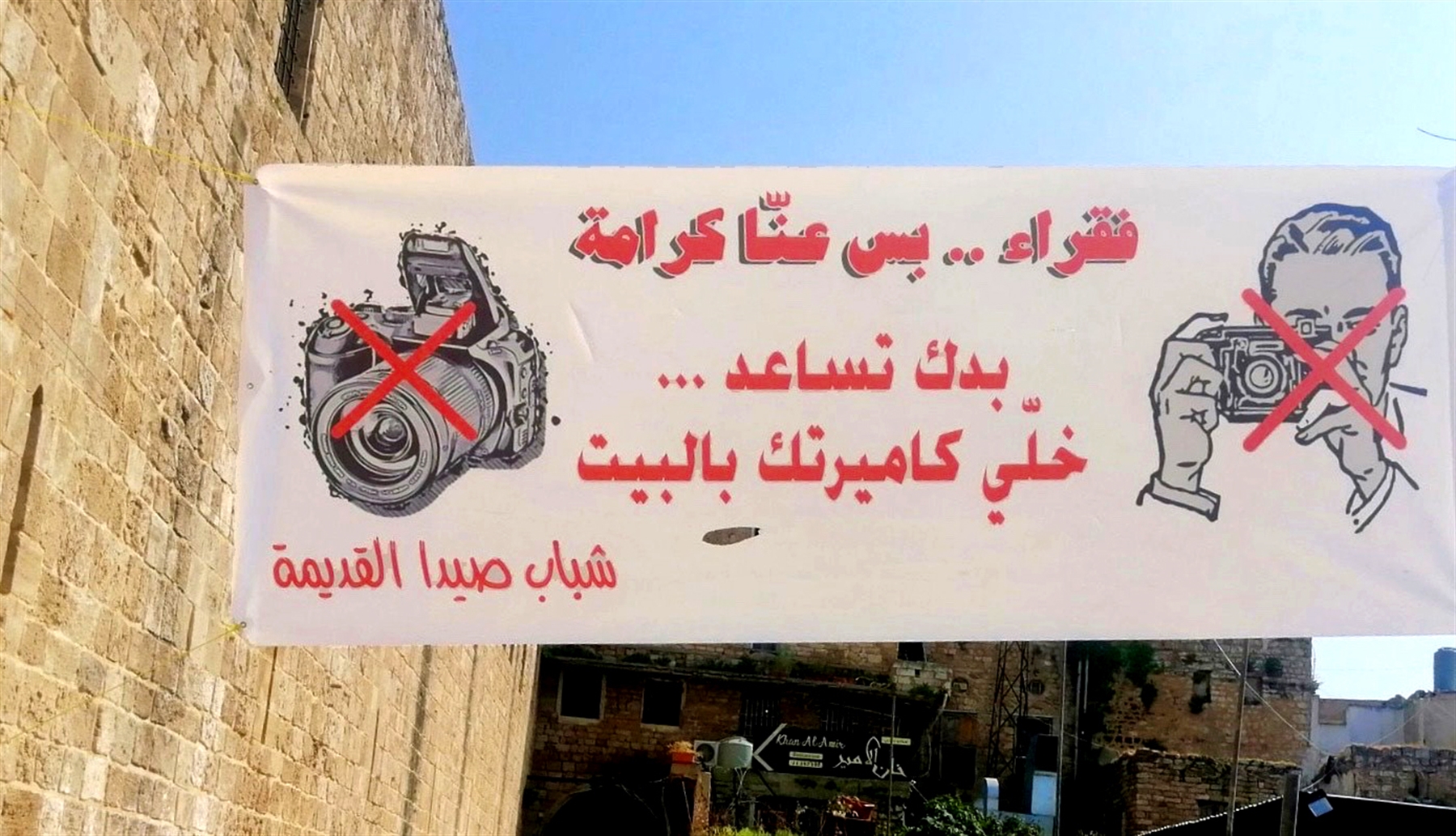 Seaside entrance to the Old City in Saida (Sidon District). The banner, placed by local citizens, targets the media and politicians emphasizing that no photos should be taken during aid distribution (Photo: Luna Dayekh, May 2020)
Our findings reveal three tensions:
The amplification of territorial sectarian politics: Most of the actions documented are dominated by sectarian political parties who are providing public health services across their strongholds. Ranging from disinfection, quarantine centers, to food distribution, all actions taken are branded, thus reinforcing territorial and sectarian divides. They include all political groups, with a strong dominance to Hizballah, and a quasi-absence of the Future Movement. Some religious actors have been identified, namely Sunni Islamic organizations. Noteworthy is the coordination of most political parties with municipalities.
A longing for a collective and for a "public": This longing appears in civic-based solidarity initiatives and in the widespread support for the public hospital and its workers. Such support is reminiscent of the strong affect for a sense of collective and for the loss of public that many people experienced during the October uprisings. Civic-based initiatives are numerous and target different vulnerabilities: groups (e.g. migrant domestic workers with Egna Legna, refugees with CRSP and Bread and Salt, elderly with Lifeline and Beit al-Baraka, etc.), localities (e.g. Nusaned in Akkar), and sectors (e.g. Busline Heroes' initiative for bus drivers and Baytna Baytak for health workers).
The confirmation of pre-existing urban inequalities: This was observed through the exclusion of many vulnerable localities (and the absence of data about them), namely refugee camps, informal settlements, and urban poverty clusters in cities and towns. The quasi-absence of INGOs and international organizations was also striking. This erasure is alarming given these localities are the most at risk from the pandemic given their limited access to clean water, and high levels of crowdedness.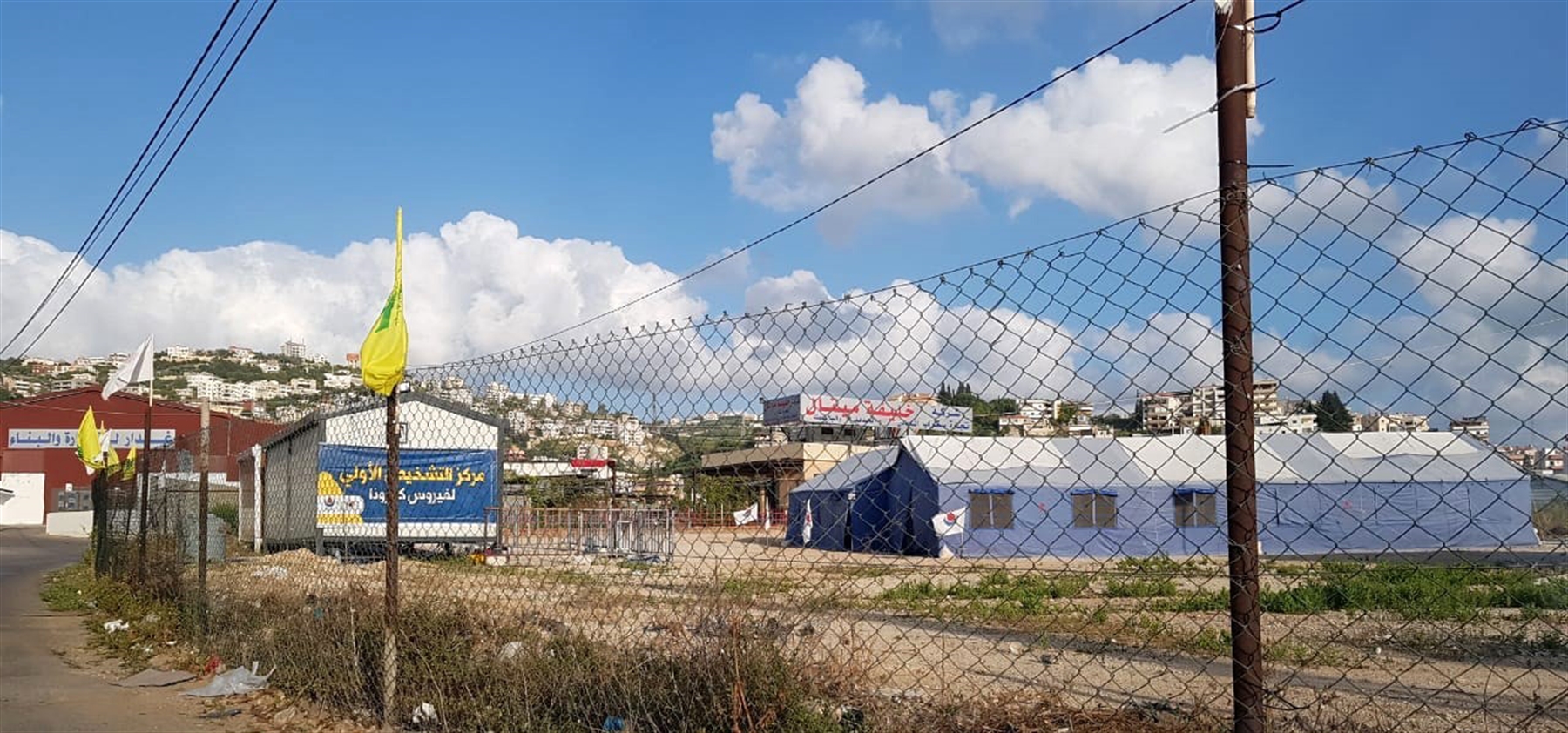 Entrance to Ghaziyeh (Sidon District). A free of charge covid-19 diagnosis centre set by Hezbollah for residents (Photo: Luna Dayekh, May 2020)
Our work thus identifies three territorialities of COVID-19 actions: the territories of sectarian politics, the territories of solidarity, and left-behind territories. Our project seeks to investigate how these territorialities overlap and connect (or not) in order to provide a grounded understanding of the political geographies of urban inclusion/exclusion and their variations, in light of the multiple crisis in Lebanon, as to inform evidence-based and inclusive policy decisions.