Inhabiting the City, Remaking its Quarters
As they inhabit urban quarters, refugees transform neighborhoods, appropriating blocks that gradually come to reflect their modes of dwelling and socialization.
This research documents the trajectories of a cluster of young middle-income refugees who have navigated through multiple districts before they converged to Jeitaoui, an aging Christian neighborhood of the city. It relied on interviews with a total of 12 young Syrians, mostly men, who lived in Jeitaoui at the time of the interview or were planning to move there, as well as the researcher's observations of the neighborhood. We asked them about their trajectories in Beirut, professional and residential, their knowledge and landmarks in the city, and their feelings about the different areas they know or went through.
Through overlapping mappings, interviews, and direct observations, the research unravels a network of solidarity, practices of spatial occupation and transformation, and ultimately the remaking of an urban district. The findings relocate at the heart of discussions of forced population displacement and resettlement the importance of refugees' individual and collective political identity and positionality.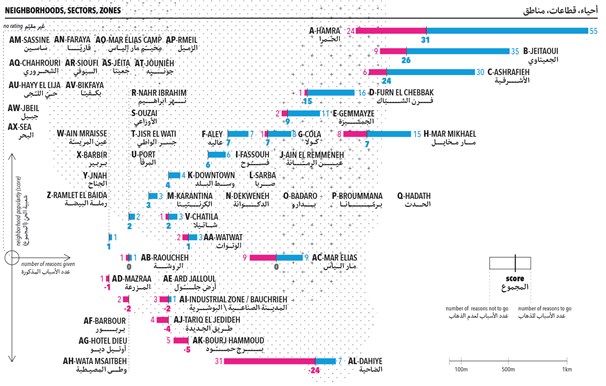 Extract from the map produced as part of this research, showing the "scores" of each neighborhood according to the interviewed youth.
This research project was led by Mona Fawaz and Dounia Salamé, with the help of Alina OueishekMaps by Ahmad Gharbieh and Monica BasbousIt was first published in Refugees as City-Makers (2018), where you can read the whole study.